"Gigantes" is the Greek word for "giant" and indeed those beans are very big related to any other beans in the store. In this recipe, the gigantes beans are baked in a red sauce till they become tender and creamy. Growing up gigantes where by far my favorite dish with legumes. So delicious and filling. My grandmother passed me down this recipe and of course I had to add my twists and I feel like it reached perfection. Delicious and easy to make this dish is perfect for kids, even little fingers following BLW.
This dish is great as a main dish or in a smaller portion as appetizer. It is served traditionally with some feta cheese and a drizzle of olive oil. Panos had it as a main dish with flower shaped feta cheese and steamed broccoli on Panos' new favorite bamboo unicorn plate*. Who says that unicorns are just for girls? For fun, I cut the feta using veggie cutters*! He calls gigantes "my little giant beans" and this dish is his favorite legume dish. Like mother like son!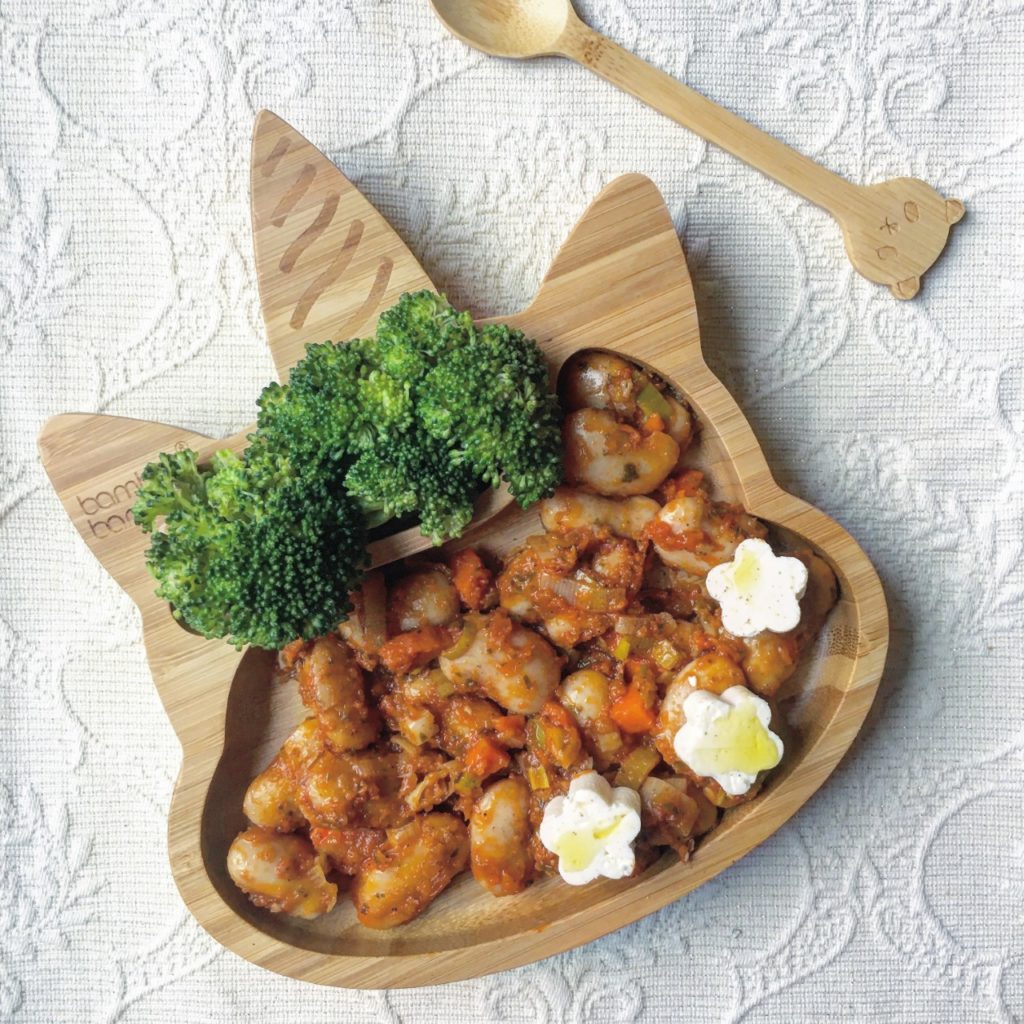 Tips and tricks
Soaking. You need to soak those beans for 12-24 hours with some drops of lemon. Gigantes almost double the size while soaking. Then just rinse and cook following the recipe or store in the freezer uncooked. This way you can have soaked beans at any time. Soaking is very important as it helps reduce the baking time.
Where to buy? This is a tough one. I don't think that you can find those beans in any main stream super market unless you are lucky enough and you have a Greek delicatessen close to you. However, you can buy gigantes* online through Amazon.
Substitution. You can substitute with white lima or canellini beans. If you ask me though the flavor it is not the same but close enough. The texture thought will be different as those giant beans are so creamy. Still it will be delicious but not equally special.
Boiling. Traditionally you need to boil the beans before bake them. You can either boil in a pot or on pressure cooker. I love my pressure cooker as it cuts down the waiting time significantly. If you don't have one then just boil with lots of water for around 50 minutes or until the beans are tender.
Store. You can store baked gigantes in the fridge up to two days or freeze them up to 3 months. I usually have a small stash of individual portions for the busy days that I run late.
* Disclosure: this post may contain affiliate links, which means Panos Eats may receive a commission to help us run this site at no extra cost to you if you purchase something that we have recommended. While clicking these links won't cost you anything! 
Baked giant beans Gigantes
Course: Lunch, Dinner
Difficulty: Medium
Cooking time
1
hour
15
minutes
Ingredients
1 lbs gigantes beans soaked over night with water and some lemon drops

1/4 cup extra virgin olive oil

2 leaks chopped

3 carrots diced

5-6 green onions chopped

2 cloves garlic minced

1 white onion chopped

12 oz tomato puree

3 tbsp parsley chopped

1 tbsp dried oregano

salt and pepper to taste
Directions
Boil the soaked and rinsed beans in the pressure cooker for 5 minutes or until they are fork tender
In a large sheet tray add the veggies (leaks, green onions, garlic, onion and carrots) along with olive oil ans stir
Add the boiled beans, tomato puree, oregano, salt and pepper along with two cups of water and stir gently so you don't break the beans
Bake on preheated oven at 375F for 1 hour and 15 min making sure that it has enough water every 15 min