Those soft cookies are easy to make using a handful of pantry staples. They are vegan, grain-free, naturally sweetened and paleo, perfect for a quick snack or even breakfast. And above all they are great for baby's first cookie! Their soft texture is great for little fingers and they are packed with nutrients. So let's get into baking!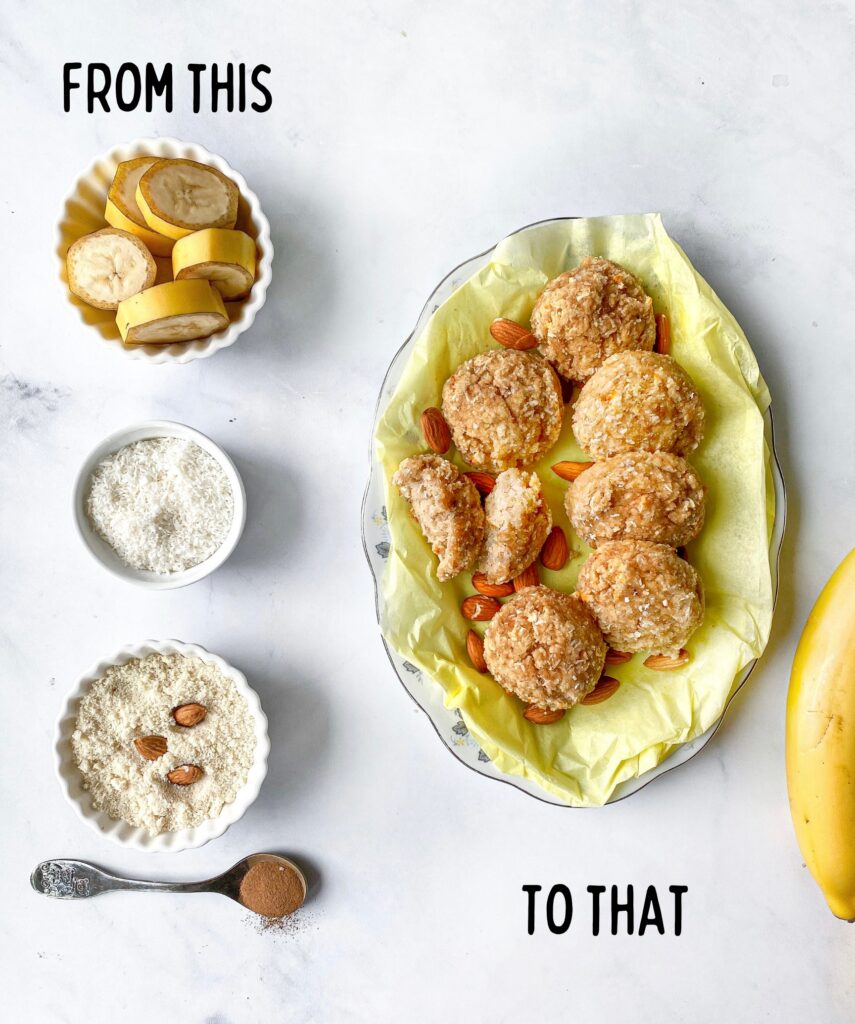 What we will need
Almond flour. I think you know by now that almond flour is my favorite alternative flour to bake with. I love the flavor but I understand that some times it gets pricey. But did you know that you can make almond flour at home with a food processor or a coffee grinder? Just use almonds, roasted or not, and crush them down to flour consistency.
Banana. This is the only sweetener of this recipe. And trust me you don't really need any other sweetener and especially if you offer those soft cookies to a baby.
Shredded coconut. This adds a bit of sweetness and on the same time it helps the mixture to bind. I just love the texture that the shredded coconut adds. Just make sure that you pick unsweetened shredded coconut.
Pantry staples: baking powder and cinnamon.
Extra tips
You need to make sure that your bananas are ripe enough, you will know this if the bananas have black spots. The ripen your bananas are, the sweeter the final cookies will be.
This recipe is great for little fingers. I mean even for babies who are following BLW. They are soft and easy for babies to hold. But of course, they are great for older kids too. And they are also great for lunchboxes!
Let the cookies cool completely on a cooling rack before you store.
How to store
You can store them in an air tight container on your pantry for 2-3 days
Alternatively, store in a freezer bag, taking out as much air as possible, for up to 3 months. Just make sure that you store the freezer bag flat in the freezer so the cookies freeze separately. When you need them, take out as many as you need and defrost overnight in your fridge and you have a delicious snack ready to go!
More baby friendly recipes
If you liked this baby's first cookie you should also make sure that you check:
Easy almond flour banana soft cookies
Course: Breakfast, Snacks
Difficulty: Easy
Ingredients
2 medium sized ripe bananas

1 1/3 cup almond flour

1/3 cup shredded coconut

1 tsp cinnamon

1 tsp baking powder
Directions
Preheated your oven at 360F and Line a baking tray with parchment paper f
In a mixing bowl mash WELL the bananas with a fork making sure that it doesn't have a lot of lumps
Add the almond flour, coconut, baking powder and cinnamon and stir to incorporate
Spoon out the dough using a spoon or a cookie scoop
Bake for 15-18 minutes until the edges are golden brown