The absolute summer dessert! Frozen yogurt popsicles! But not just an ordinary popsicles. Those frozen yogurt popsicles are healthy, naturally sweetened without any refined sugars and so delicious! And on top of that, so easy to make without any ice cream maker required.
What you will need
Bananas. You need to make sure that the bananas are ripe enough as this is the main sweetener of this recipe. So use up those spotty bananas in your counter.
Yogurt. I'm using plain whole yogurt. I choose plain over flavors as I don't want any refined sugars on our frozen yogurt. You can use any non-dairy yogurt of your choice, coconut yogurt or almond milk yogurt would work just fine.
For the almond butter flavor: almond butter and cinnamon. I love adding cinnamon on my frozen yogurt especially when this is paired with almond butter. You can use any nut-butter that you want or you can substitute with sunflower butter for a nut-free option.
For the chocolate flavor: raw cacao and dates. I always choose 100% raw cacao powder as I love the deep chocolatey flavor. However, you will need to add a little sweetness as raw cacao powder is bitter. For this reason I just add pitted dates.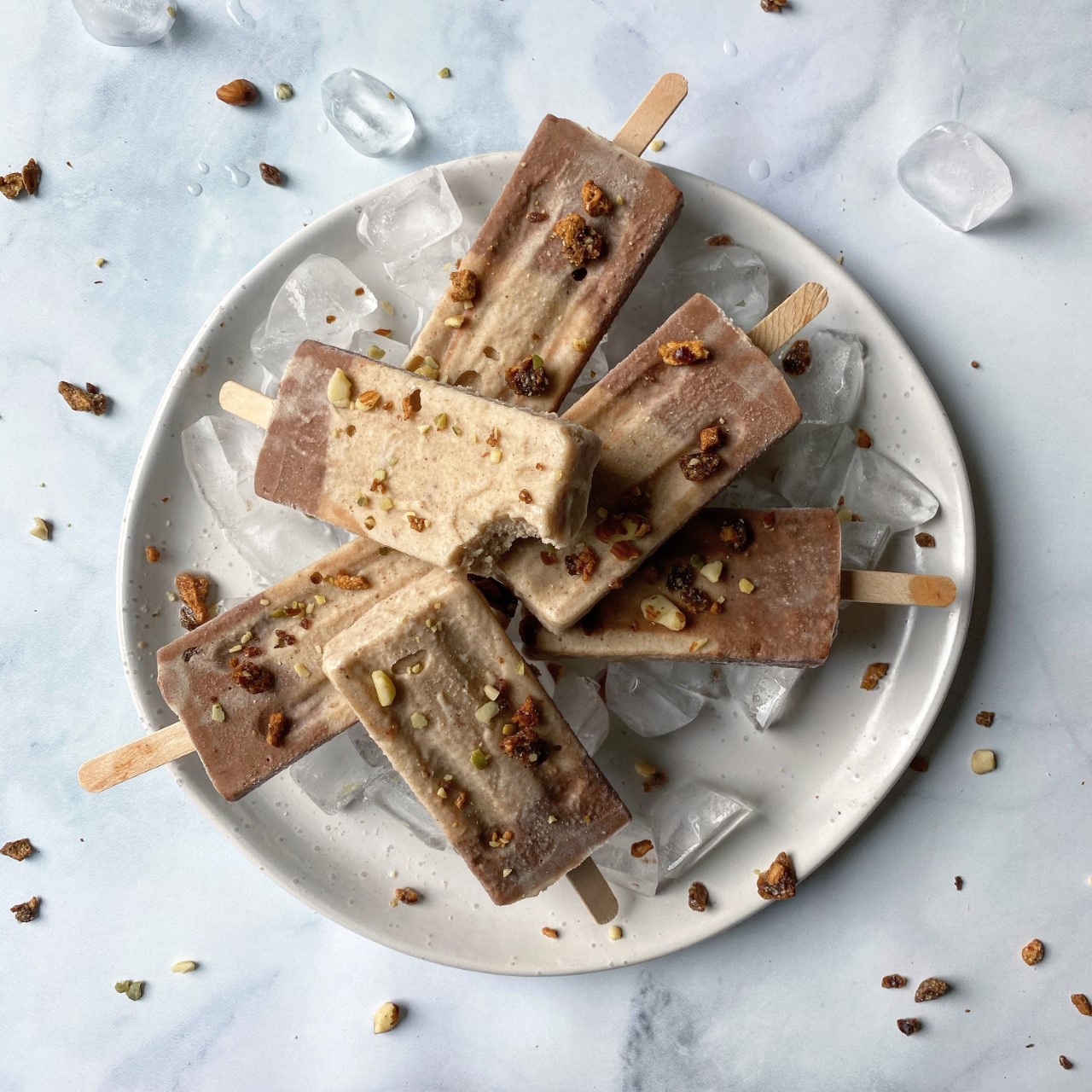 How to prepare the bananas
You should cut the bananas in thin slices and place them in a sheet tray lined with parchment paper. Then, cover with parchment paper and freeze for at least 3 hours. The prep time for those delicious frozen yogurt popsicles is minimal but the waiting time is something that you need to consider when you plan for those.
If you don't use popsicle molds and you plan to eat this in a bowl you can always use the bananas fresh, blend it with the rest of the ingredients and store in an airtight container for at least 3 hours.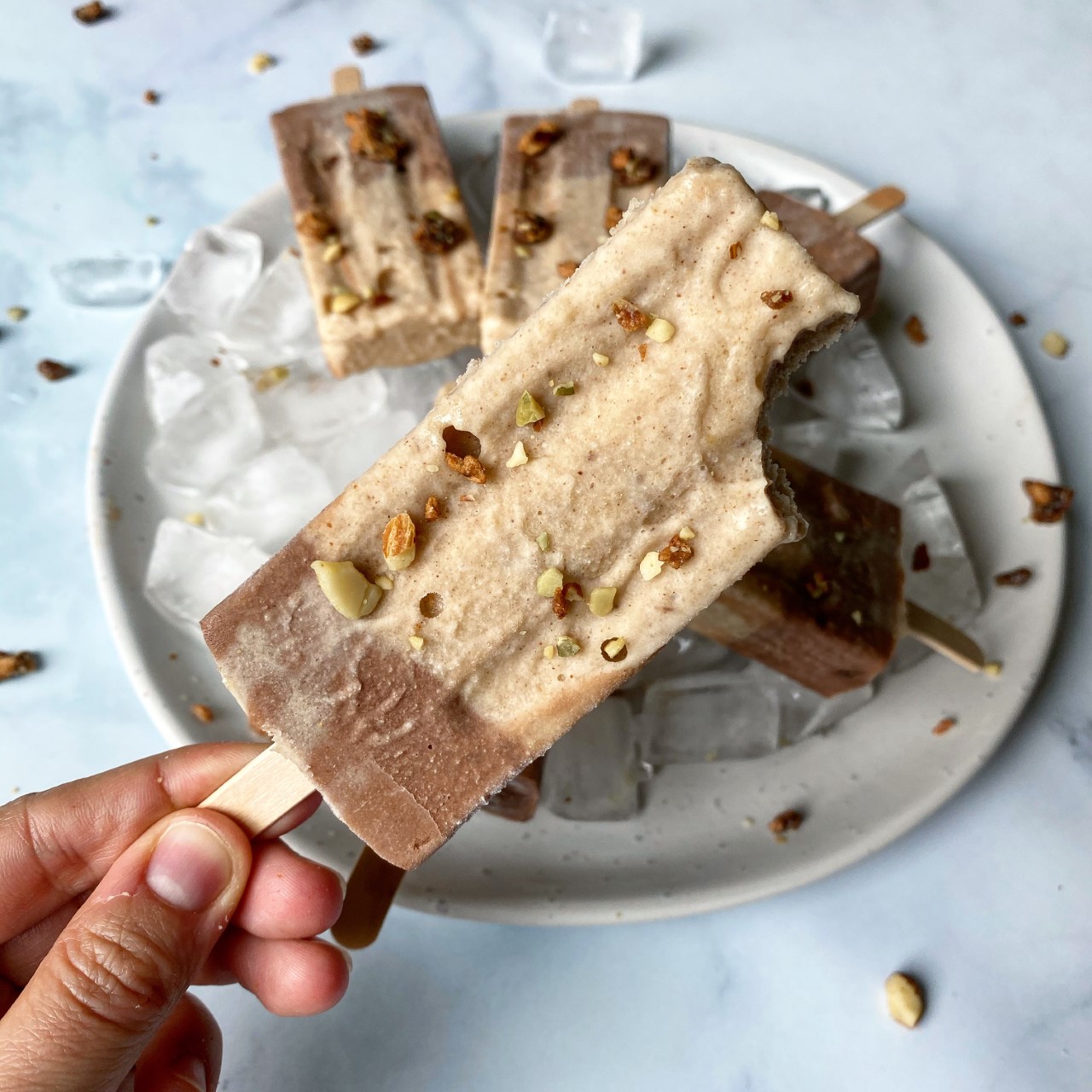 Can I make this with popsicle molds?
Absolutely! You can make both the almond butter and chocolate frozen yogurt and then either eat it right away. I personally love using my stainless steel popsicle molds just because it makes it more special for my little ones and more convenient for me to have a healthy snack in the freezer waiting for me. Keep in mind that I like to freeze the bananas before I blend so it will be nice and cold if you want to eat right away. Of course you can store in an airtight container in the freezer for later if you can resist.
More healthy desserts
Frozen yogurt popsicles
Course: Dessert
Difficulty: Easy
Ingredients
Almond Butter Frozen Yogurt

2 ripe bananas

1/3 cup plain yogurt

1 tbsp almond butter

½ tsp cinnamon

Chocolate Frozen Yogurt

2 ripe bananas

½ cup plain yogurt

1 tbsp raw cacao powder

2 dates pitted
Directions
Slice the bananas and place in a sheet tray lined with parchment paper
Cover with parchment paper and place in your freezer for at least 3 hours
In a blender blend the ingredients for the almond butter frozen yogurt
You may need to open the blender, scrap down the sides and continue blending
Split the batter into 6 stainless steel popsicle molds, this should fill them up half way through depending on the size of the molds
In the blender, blend the ingredients for the chocolate frozen yogurt
Split the batter into the 6 stainless steel popsicle molds to fill them in
Add the wooden sticks and freeze overnight
Notes
I love to top our frozen yogurt with Peanut Butter Natsola flavor, such a great topping and all natural!
* Disclosure: this post may contain affiliate links, which means Panos Eats may receive a commission to help us run this site at no extra cost to you if you purchase something that we have recommended. While clicking these links won't cost you anything!